The upcoming Zillow Premier Agent Forum, October 15–17 in Las Vegas, is a chance for Zillow to connect with our customers in-person and in-depth to better understand their needs and how best to meet them. The Forum provides not only a robust learning environment, a platform for inspiring ideas and a technological showcase, but also a powerful two-way street for communication between agents and Zillow executives.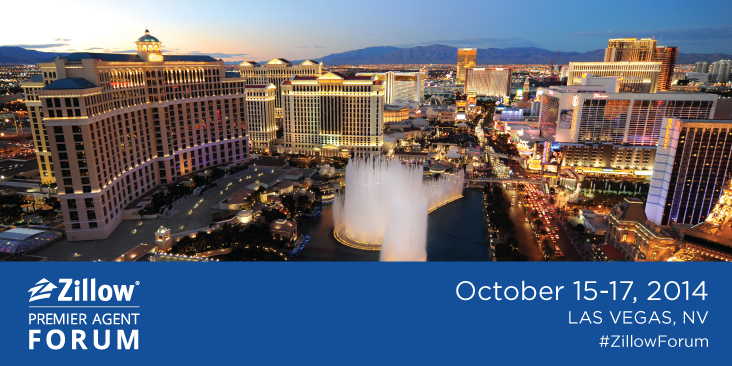 The Forum will give Premier Agents an opportunity to:
Expand their network of professional peers across the nation.
Gain valuable knowledge and advice from successful agents.
Delve deeper into marketing and productivity-enhancing tools available through Zillow and other technologies.
General session
Premier Agents will hear from the Zillow executive team, real estate coach Tom Ferry and other notable speakers on a variety of topics, from the origins of Zillow to the complexities of leadership and the challenges of steering your own career path.
Breakout sessions
Top-performing agents and Zillow product specialists will host interactive programs covering timely topics across technology, consumer engagement and business growth.
Social networking
Outside the scheduled sessions, the Forum will provide ample opportunity for agents to connect with their peers, colleagues and presenters through the designated ZExpert Lounge and various social functions.
Connect with Zillow
Be part of the social media conversation by using #ZillowForum.
If you can't make it to the Forum this year, Zillow has agent events that are available all across the U.S. Check our Zillow Agent Events page to find an event in your area.
I'm excited and looking forward to seeing many of you there.
UPDATED 10-20-2014
Here's a quick video interview of some attendees at the Agent Forum. This was part of the Zillow Acadermy LIVE streaming feed that was being broadcast out to industry pro's who were unable to attend.

Thursday - Zillow Agent Forum - Zexpert Lounge




Friday - Zillow Agent Forum - Zexpert Lounge




Here's a few Kodak moments captured from the event, hope you can join us next year or next time.